Texas Society for Biomedical Research
7750 Broadway St.
San Antonio, TX 78217
Ph: 512.415.0818
Fx: 210.822.0916
Em:
tsbr@realtime.net
Lorraine Hayden
Executive Director



Article


Texas Society For Biomedical Research. ©2016 All Rights Reserved Site developed by
FPS Design Studios
Like Us on Facebook!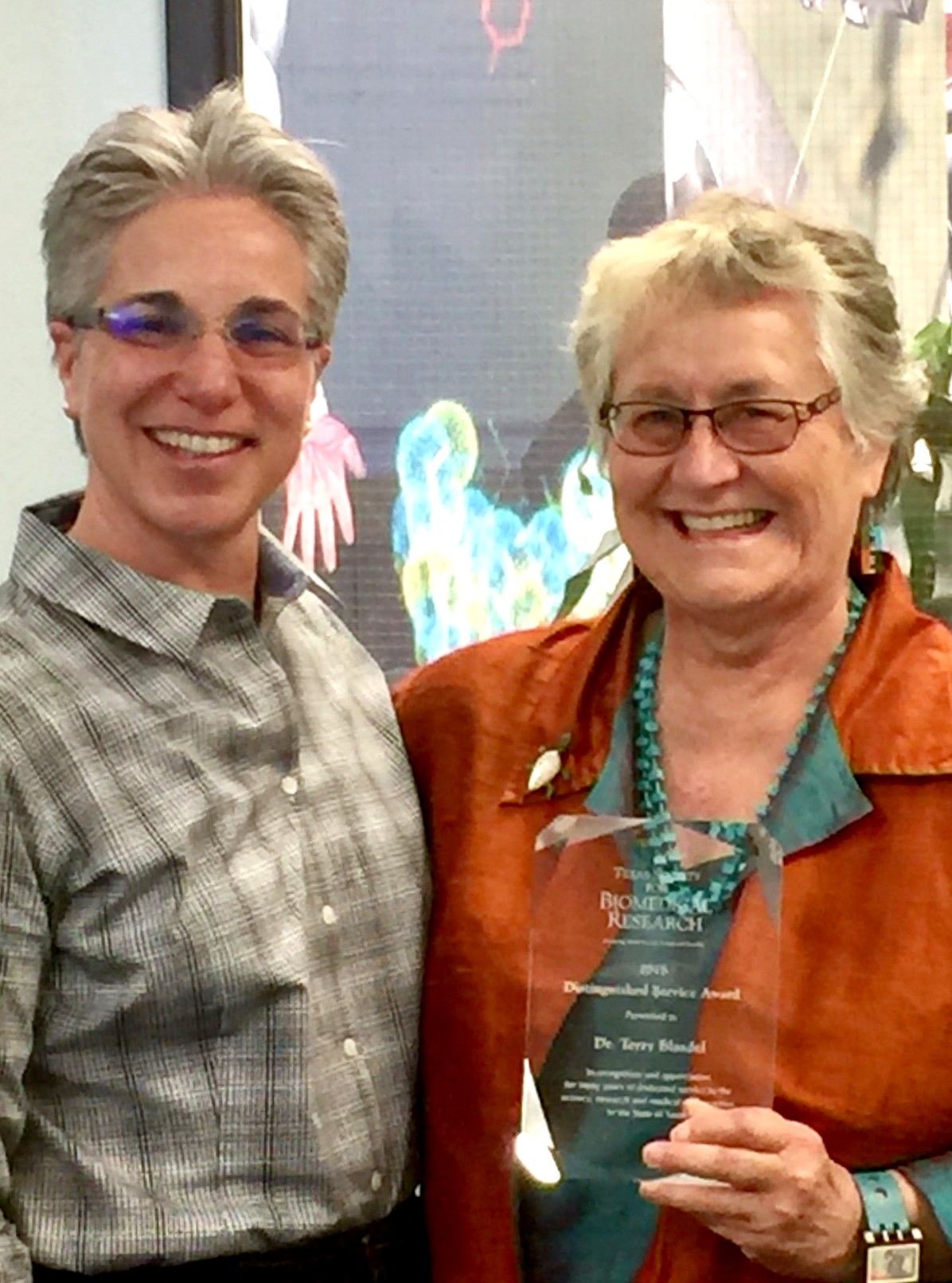 Dr. Terry Blasdel was presented the 2016 Texas Society for Biomedical Research (TSBR) Distinguished Service Award on April 4, 2017 at the University of Texas at Arlington by TSBR Board President Dr. Cindy Buckmaster. Dr. Blasdel was selected for the award due to her compassionate, caring and dedicated service as a laboratory animal veterinarian.

Dr. Blasdel started her career of caring for animals at the Houston Zoo and then joined the staff at the University of Texas Health Science Center at Houston (UT-H) before transitioning to the University of Houston and NASA. During her tenure at the Center for Laboratory Animal Medicine and Care (CLAMC) at UT-H, Dr. Blasdel was a caring educator, care provider, and always ensured the humane care and use of all animals in her charge. Her compassion and devotion provided the very optimal in animal health and well-being.

Dr. Blasdel was primarily responsible for the veterinary care of nonhuman primates and rabbits, but also provided outstanding veterinary care to all other species. She is considered a nonhuman primate veterinary expert by her peers and colleagues alike and certainly has made a difference in animal well-being for these valuable research animals. Dr. Blasdel provided a positive influence on biomedical research through her teaching and outreach for science education, and is a very strong advocate for the humane use of animals in biomedical research as she promotes and supports the goals of Texas Society for Biomedical Research.